Simple And Easy To Use Booking Platform For Hair Salons
Managing your in-store or on-demand beauty services just became simple and more efficient, leaving you, your stylists, and your clients stress free!
DESCRIPTION
Get booked faster with our powerful Salon Appointment Booking App.
Manage your appointments, team, and payments with just a few clicks on this salon management software.
Handle payments simply and efficiently. With Pulse 24/7 you have the ability to process payments instantly.

Make your page unique and show off your skills by uploading pictures of your favorite beauty products or sharing makeup tutorial videos with your clients.

View customer reviews and ratings so that you can effectively cater to your clients' needs and improve your business. Our "5 Star Auto Rating System" requests customers to rate the service shortly after it is completed. You can even control your business's reputation.

Directly connect with your clients and immediately let them know about a special new deal you've added.

Build a stronger brand identity by customizing your own landing page or with the custom app upgrade feature.

Engage with customers through this salon appointment booking app!

The seamless booking system for Pulse is accessible on both mobile app and website.

The booking system allows users to view your availability at any time and make appointments on the fly.

Keep your clientele happy and engaged by creating easily shareable rewards and referral programs.

Send your customers discount codes!

Use the app to identify your best customers and send them exclusive offers via email directly from the app.

Salon management software that easily allows you to sync your appointments via google/ outlook/ etc.

Experience better calendar management and organization to help you stay on top of the day-to-day tasks of your business.

Receive daily customized marketing and sales tips to help you grow in the hair salon industry.

You will never have to worry about no-shows again. Pulse 24/7 sends automatic reminders that will notify you and your clients.

Why not try it all for free with Pulse 24/7! The salon management software you need to help run your business smoothly.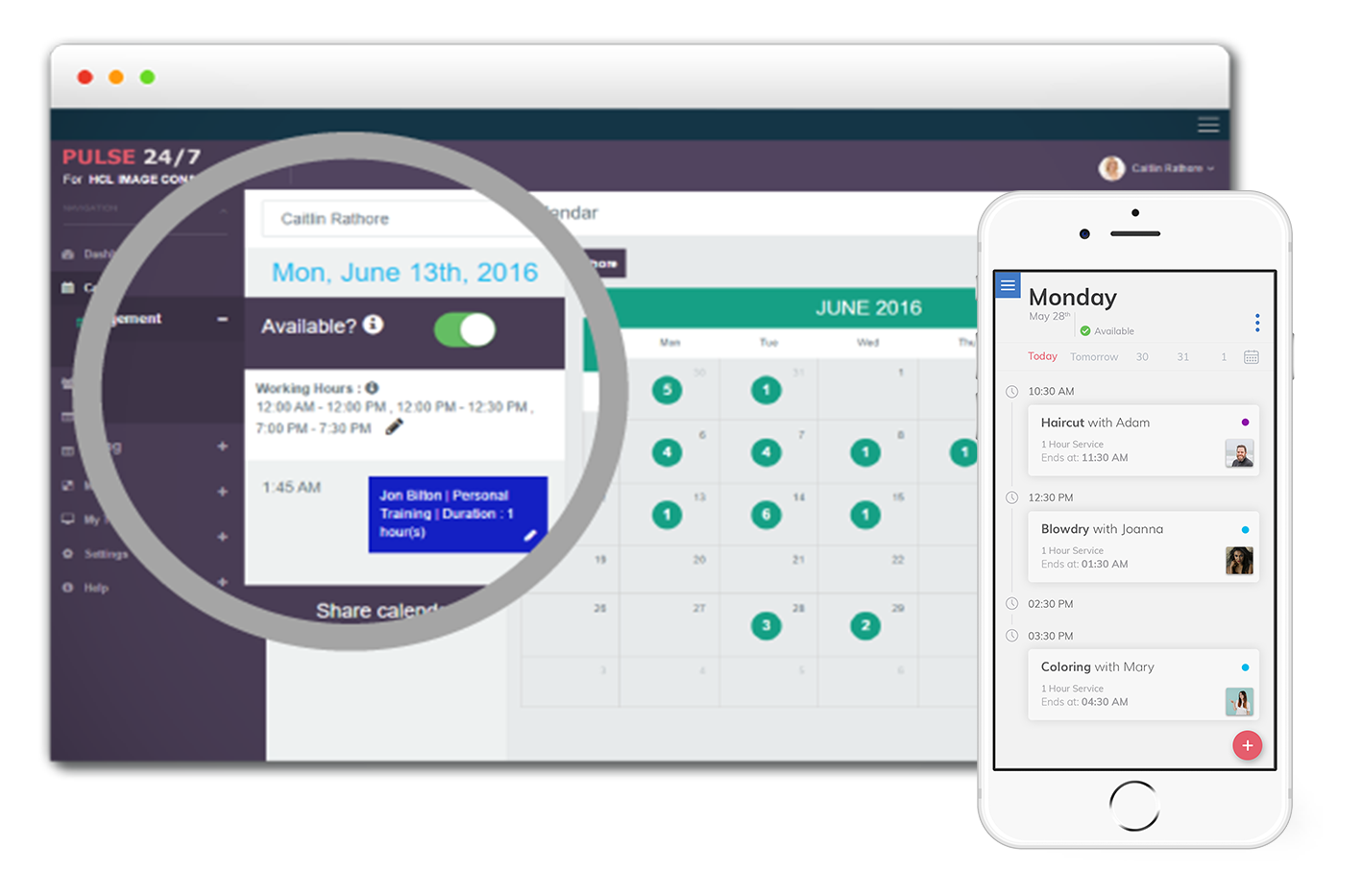 Professional
Application access for 5 user(s)
One Time Setup Fee $15.00
Professional Plus
Application access for 15 user(s)
One Time Setup Fee $29.00
Premium
Application access for 50 user(s)
One Time Setup Fee $45.00