An interview with Elizabeth Miner of Boston Beauty Coalition
"Finding your Community is key to creating a successful business " 
–
Elizabeth Miner is adamant about refuting the notion that you are stuck in your present circumstances, whether they be personal, professional, or otherwise. She has dedicated her life to establishing a method based on the challenges and learnings from her experiences, demonstrating that everyone can live the life of their dreams.
Guscott: Tell us who you are and a little bit about your company
Miner: My name is Elizabeth Miner my company is Boston Beauty Coalition.
Miner and the Boston Beauty Coalition are partnering with Pulse24/7. The Boston Beauty Coalition will be having events every month with thoes interested in the Boston beauty community.
How many years have you been in business?
We formed this Business in August of 2022.
Miner was an International Corporate Paralegal for 20+ years, working with startups and entrepreneurs, and multinational companies. In 2012 she left being a senior corporate paralegal at Apple to focus on life-coaching individuals full-time. Simultaneously becoming a digital nomad, because she was confident she could coach anyone from anywhere. Miner has worked abroad for the last seven years living in various places like Colombia and Panina to name a few and has returned to her home base of Boston to create the Boston Beauty Coalition.
Can you describe your product or service?
We are a community based on the need that there is no one place for people in the beauty and fashion industry to network, collaborate, and mentor each other, with learning sessions that are directed toward the fashion and beauty business. The Boston Beauty Coalition is designed to fill that need through events, and revenue-generating opportunities to build their company or brand.
How would you describe your typical customer?
Any fashion or beauty professional that services in and around the Boston area.
Who or what inspired you to launch this company or brand?
There's a deep need, I am a business coach. I go to networking events and often find one or two beauty or fashion professionals that feel like they are ignored or there is no place for them. I also have clients who are in the beauty and fashion industry. I advised them on the importance of going out and finding their community of like-minded individuals in their industry and what their best practices are and networking with other shoulder services so that they can collaborate. However, time and time again their response was that there is no place. I immediately thought to myself, well that needs to be fixed, I can do that, and so I did with Boston Beauty Coalition.
What's one piece of advice you would give to other creatives thinking of launching their own business?
One doesn't do it (she laughs), but seriously think it through and get yourself a coach. They are there for a reason, they have the knowledge and experience about starting the successful business you wish to obtain. Having a life coach will help make your journey on the road to success that much easier. Also, find a community that will support you and is able to help you along the journey with the more difficult lessons they have already learned. Having a coach creates the opportunity to share the lessons you have learned with a successful professional who can help you adapt your company or brand to its highest capabilities.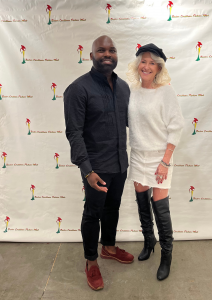 –
Given the influence of technology and social media in today's society, how has your company benefited or suffered as a result?
I'll be honest with you- I can't answer that question well. Having just opened our doors it's difficult to say. However, what I can say, is that it's challenging to get people's attention in today's environment because everything around us beeps, buzzes, and chirps. There are many products to appeal to a wide audience, but there isn't much attention to go with them. The difficult part is figuring out what motivates your customers to utilize your goods or services and giving them more of that in the context of the content. Boston Beauty Coalition is blessed to have such wonderful members and partners that support us in engaging our audience with thoughtful material that relates to the reasons visitors come to our website.
Pulse 24/7 is a powerful tool that allows service providers to automate their booking payments in marketing from the palm of their hands. Each Pulse membership equips entrepreneurs with the most cutting-edge technologies to scale their businesses. To register for a free trial, please click here. The Pulse 24/7 Spotlight Series is a weekly profile of local creatives who are influencing their field by pursuing their passions.